Description
Mount St. Helens DVD and Book Combo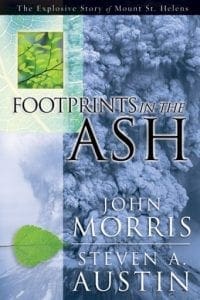 Footprints in the Ash Book by John Morris and Steve Austin
In the early morning hours of May 18, 1980, the pristine scenery around Washington's Mount St. Helens was shattered by a powerful explosion that devastated its north slope. The eruption of a landmark mountain had begun.
In the aftermath, amid the rivers of mud, blankets of ash, and eerie quiet, scientists made a startling discovery: "nature" was bringing life out of death, re-claiming from the destruction a teeming colony of plant and animal life. Most amazing of all, the geological upheavals had re-created the processes of old that had carved out such marvels as the Grand Canyon.
Today, the site stands as a testament to the power of God, who upholds all of creation. In His infinite wisdom, He has shown the modern science of geology that the earth is much, much younger that many suspected.
Mount St. Helens: A Massive Media Event Video with David Rives and Paul Taylor
What lessons can we learn from the fairly recent 1980 eruption of Mount St. Helens? Learn why the 1980 eruption of Mount St. Helens is so significant when it comes to the relevance of historical eyewitness testimony of catastrophic events.
Mount St. Helens: Astonishing Regrowth Video with David Rives and Paul Taylor
Mount St. Helens became a landmark of devastation in 1980. But what does it look like today? Some scientists said that it could take as many as one thousand years before some areas around Mount St. Helens would see significant regrowth. A short trip to the site today would prove otherwise.