Description
Patterns of Evidence: The Red Sea Miracle Part 2 DVD
The Red Sea Miracle Part 2 is the epic finale as we answer big questions about the Red Sea Crossing and other Biblical miracles. How could thousands of feet of water be parted at the Red Sea? Or was the sea merely parted by the act of wind in nature, through a shallow Egyptian lake? Mahoney investigates these locations to see if any have a pattern of evidence matching the Bible. The answers he finds might shock you, and are sure to strengthen your faith.
Christians will be inspired and skeptics will have much to think about as Mahoney reveals two decades of documentary research including research into divers who say they have found the remains of pharaoh's army on the seafloor!
This cinematic journey leads him to inquire… "do miracles still happen today?" Learn more in The Red Sea Miracle Part 2 DVD. Join Timothy Mahoney as he retraces the steps of Moses and the Israelites, looking for answers. As he investigates the possible locations, he interviews top-level secular and Biblical scholars in search for clues that support the Bible's timeline for this pivotal event.
Now, SEE THE EVIDENCE as the Bible comes alive with dramatic recreations, 3d animations, and never seen before footage.
Note From David Rives:
"My friend Tim Mahoney expertly takes us on a journey with him to Egypt and the Middle East as the Biblical account and history come to life. Highly recommended! Get the whole set of his cinematic films HERE." -David
GET THE SET WITH BOTH PART 1 & 2 HERE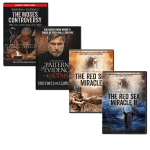 OR OWN THE ENTIRE 4 MOVIE "PATTERNS" COLLECTION HERE
Bonus Features include:
1. Film trailers
2. Cast Bios
3. Additional Resources
Run Time: 142 minutes
Format: DVD – All Region
Screen Format: Widescreen
Rating: Dove Family Approved
Closed Captions: English