Description
In this package, The Ancient Man Book and DVD Combo, you will receive 1 copy of Secrets of the Ancients DVD and 1 copy of The Puzzle of Ancient Man Book
SECRETS of the ANCIENTS and the Downfall of America DVD with David Rives and Mike Snavely
What can ancient technology tell us about the creation vs. evolution debate and is the U.S. doomed to the same fate as past civilizations? The stair-steps of demise explained in Secrets of the Ancients
Evolutionary science would lead us to believe that over time we have become a lot smarter. That's what we read in our textbooks, but a careful examination of cultures from the distant past proves that there is a whole lot more to the story than we are being told.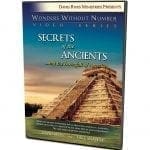 On this episode of Wonders Without Number, we will examine the "Lost Secrets of Ancient Civilizations", including ancient technology that causes today's scientists and engineers to wonder in amazement! History has proven that mankind has always had the ability to think and use his God-given intellect in amazing ways. But we often fail to follow the moral codes and rules of Scripture, and civilization after civilization has fallen because of sin. Where is America in this repeating pattern?
The Puzzle of Ancient Man: Advanced Technology in Past Civilizations? Book by Dr. Donald Chittick
Popular culture has led us to believe that ancient man was primitive, originating from primates and steadily improving through a process of time and chance. But does that agree with reality? What does the evidence left behind from past cultures tell us?
Was ancient man simple and primitive as we have been taught, or did the level of science and technology existing thousands of years ago rival–or even surpass–the level of ours today in the 21st century? Dr. Chittick examines more details of technology, evidence of ancient machine power, and optical technology possessed by ancient people. Examine what the facts say about ancient man–facts that have long gone unnoticed and often times ignored by today's secular culture.