Description
The Global Flood DVD and Fossil Bundle includes the following:
FLOOD CHRONOLOGY AND THE FOSSIL RECORD | DR. TIM CLAREY AND DAVID RIVES | WONDERS WITHOUT NUMBER VIDEO
What is a megasequence? How does looking at the big picture in geology point to a global flood? Learn answers in Flood Chronology and the Fossil Record Video. Does it take millions of years for oil to form, and if so, are we on the brink of a crisis? Could oil and hydrocarbons even survive for millions of years? Learn about the origin of Earth's oil and how it points to a young Earth. Dr. Tim Clarey has a Ph.D. in Geology from Western Michigan University. He worked as an exploration geologist at Chevron, developing oil drilling prospects and has published many papers on many aspects of the Rocky Mountains. Tim has authored two college laboratory books and several books on dinosaurs and the Bible. He is a geologist with the Institute for Creation Research.
FOSSILS AND THE FLOOD | DAVID RIVES AND VANCE NELSON | VIDEO | WONDERS WITHOUT NUMBER
"Evolutionism is dead, they just haven't received the memo yet" – Vance Nelson. Learn powerful truths and exciting facts about fossils and Noah's flood that point to a young Earth and recent burial.
From Alberta Canada, Vance Nelson is the author of multiple books, including one in Flood Fossils, one on giant animals of the past, and another on dragons.
6 FACTS ABOUT FOSSILS | DAVID RIVES & DR. JOHN WHITMORE | WONDERS WITHOUT NUMBER VIDEO
Dr. John Whitmore has done extensive studies of fossil fish. Discover six facts about fossils and why they are important for Christians to know. Dr. John Whitmore received his PhD in biology from Loma Linda University and teaches geology at Cedarville University. His publications include many GSA abstract, journal articles, book chapters and popular articles. He speaks internationally on the topics of creation, geology, and Noah's flood and has led many research trips in the Grand Canyon.
GENUINE FOSSIL AMMONITE – SPLIT PAIR
Ammonites are known for their coiled shells and are now extinct but were very abundant before the flood. These have a close resemblance to the chambered nautilus of today with squid like tentacles. Many fossilized ammonites have crystal filled internal chambers while others are preserved in solid limestone. The shell of this fossil has been split to revel the inner structure of the ammonite.
REAL FOSSILIZED SHARK TEETH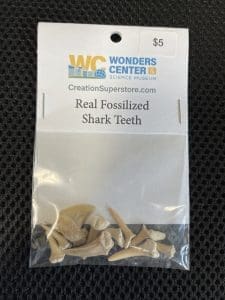 Sharks have a skeletal system made of cartilage rather than bone. As a result, the teeth are normally the only part of the shark that is fossilized. Sharks have multiple rows of teeth which fold into place when a tooth is lost, and they continually grow new teeth. As a result, some locations have fossilized shark teeth in abundance. The wide variety of shapes of the teeth represent a range of shark species each with their own tooth design.