Description
TIME CHRONICLERS – Audio Adventure – Vol. 1
Based on real places and real scientific discoveries, we pray that it'll build your faith as well as keep you on the edge of your seats. What do a boy, a watch, and a journal have in common? They're all clues that unravel a past that has the Penner family trying to figure out what really happened on the voyage of the HMS Beagle. From the original creators of the Jonathan Park series, Time Chroniclers is an audio drama that continues to give great evidence for creation in an exciting and informative way.  Follow the Penner family, Scott, Suzanne, Winny, Hope, and Heath, as they find secrets from the past that unlock their future! This project is an opportunity for kids of any age to see that they are not the products of random chance process, but were made especially by God. "For we are his workmanship, created in Christ Jesus unto good works, which God hath before ordained that we should walk in them." –  Ephesians 2:10
Album Summary:
It's the year 1831. Jimmy's life changes in one night, when he's seen by two men who've lit the family barn on fire. Meanwhile, in modern-day Los Angeles, the Penner family is battling the day to day issues that keep them from living out their faith. Two families from different eras separated by a ribbon of time; how do their lives intersect?
Episode Summaries: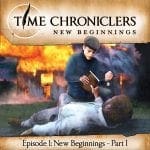 New Beginnings – Part 1
Jimmy's 15th birthday goes from joy to disaster after his father passes down a watch and a journal containing information that two men are sent to silence. In modern day, Scott Penner finds his faith challenged when he's handed an assignment to cover Darwin's voyage to the Galapagos. At home he must confront the family's bad habits and poor attitudes towards each other.
Click below to listen to this full 30 minute episode for free:

New Beginnings – Part 2
Jimmy's captured and put in a place where nobody seems to care that he's been kidnapped, except a young boy, Tom. For the Penner family, Scott's father, Ian, dies. This leaves behind his mother, Ellie (who's suffering from Alzheimer's) and living in a mysterious house.
The Reunion – Part 1
The two men who burned down Jimmy's barn (Marley and Clive) come back,  looking for his father's journal and threatening Jimmy's mother. The Penners come to Ian's funeral and find that there's no one to take care of Grandma (Ellie). The family begins to work together fix up the house, but Ellie refuses to sell.
The Reunion – Part 2
Marian and her brother (Daschel) discover where Jimmy has been taken, and risk everything to rescue him. At the Penner's, rumors around town abound about strange activities surrounding the Penner family.
New Frontiers – Part 1
Jimmy is transported to the port of Plymouth, England. Marion and Daschel are in a race against time to find Jimmy before Marley and Clive. For the Penner family, Ellie shows up with a burnt diary containing a code. Winny, Hope and Heath must work together to try to discover its meaning.
New Frontiers – Part 2
Jimmy and Daschel come face to face with his captors. Who will prevail? The Penner's have to work together to get to the parade in Ellie's small town. Later, they find Ellie remembering enough to help the family decode the secret of the Penner house. What will they find?
Listen to samples below: